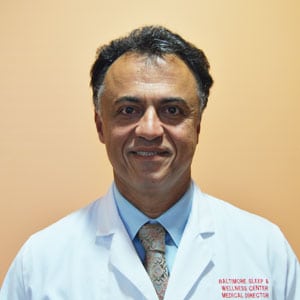 Kiumarce Kashi M.D., F.A.C.P
ABIM Board Certified In Internal Medicine and  Sleep Medicine
Dr. Kashi has been in private practice since 1995. He is the medical director of the Baltimore Sleep and Wellness Center, ABIM Board Certified in Sleep Medicine and a Fellow of the American College of Physicians. He is also a Diplomate of the American Board of Internal Medicine and ABIM Board certified in Sleep Medicine. Dr.Kashi received his medical doctorate degree from A.U.C school of medicine and completed his internal medicine residency at Medstar Franklin Square Hospital Center where he was also chief medical resident. Active in clinical research over the past two decades, he has been a co-investigator of many national and international research trials in the fields of Cardiovascular Medicine, Sleep, Restless legs Syndrome including JUPITER, PREDICTIVE 303, REST, POSSIBLE, DANCE etc. Dr. Kashi has once again been named as one of Baltimore's Top Doctors by Baltimore Magazine.
Alireza Zarrabi, M.D.
Dr. Zarrabi earned his medical degree from SBUMS in Tehran, Iran. He did his post-doctoral fellowship in cardiovascular imaging at Texas Heart Institute in Houston, Texas. Dr. Zarrabi published many articles in this field in prestigious medical journals (Circulation, ATVB, American Journal of Cardiology, etc) as author and co-author and presented his research findings in multiple international meetings. Dr. Zarrabi finished his residency in internal medicine at MedStar Harbor Hospital in Baltimore where he also served as Chief Medical Resident. He received Director's Award for the best performance among all house staff. Dr. Zarrabi served as chair for the Chief Residents Association of Baltimore (under American College of Physician) from 2011 to 2012. He worked in Acute Care Department at observation unit and urgent care for Mid-Atlantic Medical Group before joining Dr. Kashi's practice. He also served as Baltimore area Lead Physician in telemedicine while he was at Kaiser Permanente. Dr. Zarrabi identified as "Top Doctor" by Baltimore magazine's highly coveted list in 2015 and 2016.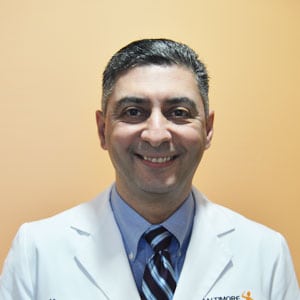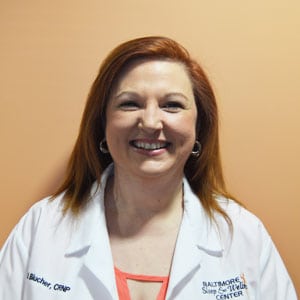 Victoria Blucher, DNP, CRNP, FNP-C
Vicki has worked in many levels of nursing, including at the bedside in the fast-paced environment of the ICU and ER, and as a clinical educator, charge nurse, and nurse manager. She worked in the neuroscience critical care unit at Johns Hopkins Hospital and then joined the emergency department at St. Joseph Medical Center until she completed her masters degree and NP training. Then she spent many years in an Ear, Nose and Throat practice, where she also managed the allergy immunotherapy clinic. She has over 11 years of experience as a family nurse practitioner. She has served as preceptor and mentor for novice registered nurses, nursing students and nurse practitioner students. She currently also holds an adjunct faculty position with the College of Health Professions at Wilmington University. Vicki is a member of the American Academy of Nurse Practitioners and the Nurse Practitioner Association of Maryland, and the American Academy of Otolaryngic Allergy. She has presented original research on "The Effect of Capacity Maximization Efforts on Customer Satisfaction and Throughput in a Suburban Baltimore Emergency Department," American Organization of Nurse Executives (AONE) Annual Meeting. She had a response published in the Journal of Emergency Nursing regarding the use of x-ray protocols for extremity trauma in the Emergency Department. She also presented "Therapeutic Hypothermia," at the Emergency Nurses Association meeting. Her interests include population health, elderly adults with chronic illness, preventing hospital readmissions and mentoring new nurse practitioners.
Education:
Associate's degree in nursing - Pennsylvania College of Technology
Bachelor's degree in nursing - University of Maryland Baltimore
Master's in nursing, Family Nurse Practitioner certificate - University of Maryland Baltimore
Doctor of Nursing Practice - Wilmington University